MGL-Convention
Events organized for collectors by collectors at Mönchengladbach Airport (MGL)
located just 30 km west of DUS
17. MGL-Convention Wings & More
The 16th MGL Convention took place on 12th of March 2022. On more than 60 tables, visitors were presented models of all scales, but also many other aviation-related articles - as usual, of course, in the best weather and in a relaxed atmosphere.
In October 2022 the 17th MGL Convention will take place. We are looking forward to your visit on 29.10.2022 between 10 am and 4 pm at Mönchengladbach Airport!

We had announced that the event would take place in a new location (Hugo Junkers Hangar). However, as the airport is able to make the Bistro available to us once again, we have decided to hold the 17th MGL Convention in the old familiar surroundings after all. Due to the planned reconstruction work at the airport, there will nevertheless be a new location from 2023!

We hope that the Ju 52 will be on the apron or in the hangar on the day of the convention and can be viewed as planned for a small fee.
This part will be taken over by the Verein der Freunde historischer Luftfahrzeuge e.V. and depends on the weather!

We also hope that the Corona situation will remain relaxed and that the weather will be good so that the event can once again take place in a relaxed atmosphere.
Admission will remain free. The table fee will not be increased!

Anyone who would still like to reserve one or more tables is welcome to let us know by sending an email to info@mgl-convention.de.

Best regards and see you in October

MGL-Convention Team

Markus, Sebastian, Peter & Ralf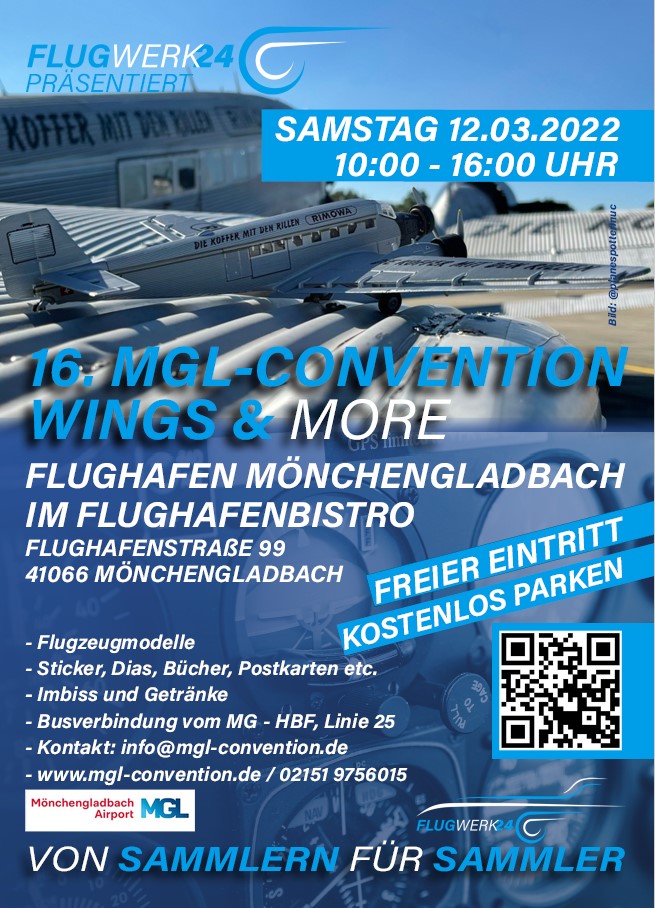 16. MGL-Convention Wings & More

Hallo zusammen!
Wir - das Team der MGL-Convention - möchten Dir mitteilen, dass die 16. MGL-Convention wie geplant am 12.03.2022 stattfinden wird.
Die Convention wird gemäß der an diesem Tag in NRW gültigen Corona Schutzmaßnahmenverordnung stattfinden. Die endgültigen Maßnahmen werden wir kurz vor der Convention mitteilen.
Teile uns bitte bis Samstag 19.02.2022 mit, wie viele Tische Du benötigst. Tischreservierung bitte direkt an info@mgl-convention.de senden.
Aufbauzeiten für Freitag 11. und Samstag 12.3.2022 werden wir zusammen mit den gültigen Corona Schutzmaßnahmen mitteilen.
In diesem Sinne alles Gute und man sieht sich hoffentlich am 12.03.2022 auf der MGL-Convention!
Viele Grüße
Markus Kircher, Sebastian Steinbach, Peter Vosen und Ralf Wittekopf
================================================================================================================
Hi, everyone!
We, the MGL Convention team, would like to inform you that the 16th MGL Convention will take place as planned on March 12th, 2022.
The convention will take place in accordance with the Corona Protection Measures Ordinance valid in North Rhine-Westphalia on that day. We will announce the final rules shortly before the convention.
Please let us know by Saturday February 19th, 2022 how many tables you need. Please send table reservations directly to info@mgl-convention.de .
We will announce construction times for Friday, March 11th and Saturday, March 12th, 2022 together with the applicable corona protection measures.
All the best and we hope to see you at the MGL Convention on March 12th, 2022!
Greetings
Markus Kircher, Sebastian Steinbach, Peter Vosen und Ralf Wittekopf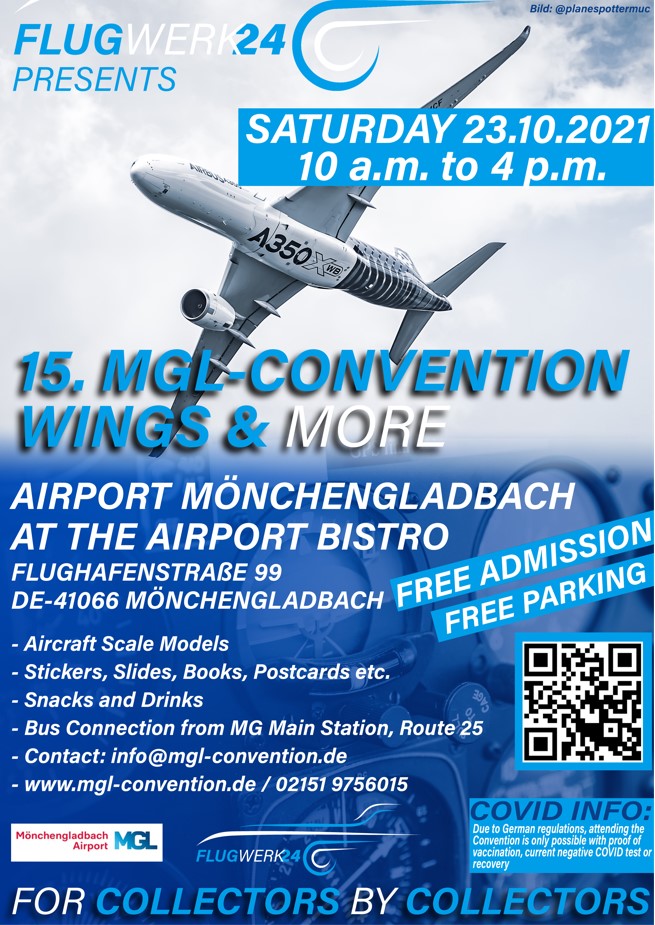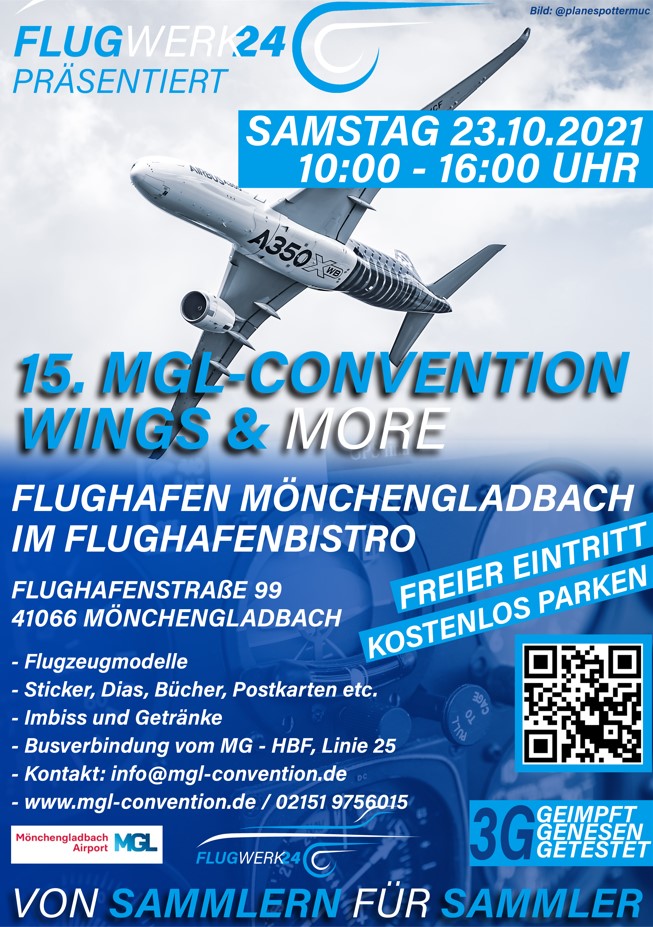 15. MGL-Convention Wings & More

Wir wagen den Neuanfang in MGL am 23.10.2021! Am gewohnten Ort, aber mit neuem Partner! Sebastian Steinbach von Flugwerk24 ist ab sofort mit im MGL-Team!

Leider bleibt das Bistro Winkens für immer geschlossen, aber wir hoffen trotzdem weiterhin auf eine familiäre, entspannte und auch leckere Atmosphäre im Terminal des MGL Flughafens.

Und trotz Corona hoffen wir natürlich auf jede Menge Aussteller und Besucher :-) Anmeldungen/Anfragen von Ausstellern sind über die im Flyer genannten - zum Teil neuen -Kontaktkanäle ab sofort möglich. Die gewohnte "Rundmail" an die bisherigen MGL-Aussteller folgt in den nächsten Tagen!

"Von Sammlern für Sammler" - unter dem weiterhin gültigen Motto hoffen wir auf einen gelungenen Neustart!

Markus Kircher, Sebastian Steinbach, Peter Vosen und Ralf Wittekopf



15th MGL Convention Wings & More

We dare a new beginning in MGL on 23rd of October 2021! At the usual location, but with a new partner! Sebastian Steinbach from Flugwerk24 is now part of the MGL team!

Unfortunately, Bistro Winkens will be closed for good, but we still hope for a familiar, relaxed and also delicious atmosphere in the terminal of MGL Airport.

And despite the Corona, we hope for lots of exhibitors and visitors :-) Registrations/inquiries from exhibitors are now possible via the - partly new - contact channels mentioned in the flyer. The usual "circular mail" to existing MGL exhibitors will follow in the next few days!

"For collectors by collectors" - under the still valid motto we hope for a successful new start!

Markus Kircher, Sebastian Steinbach, Peter Vosen and Ralf Wittekopf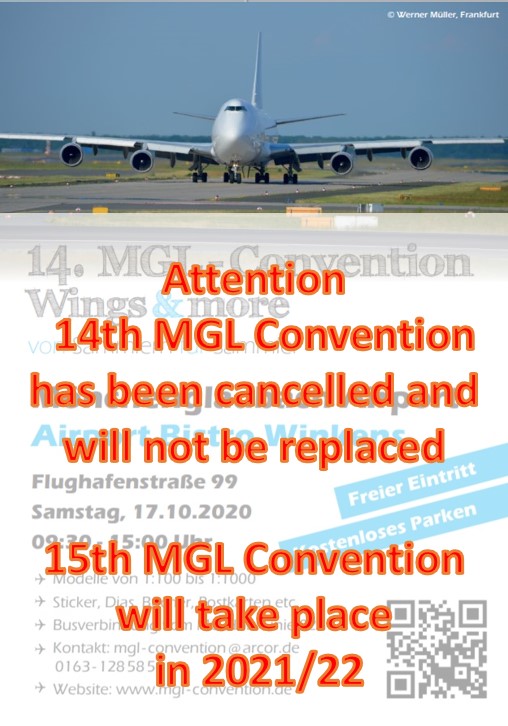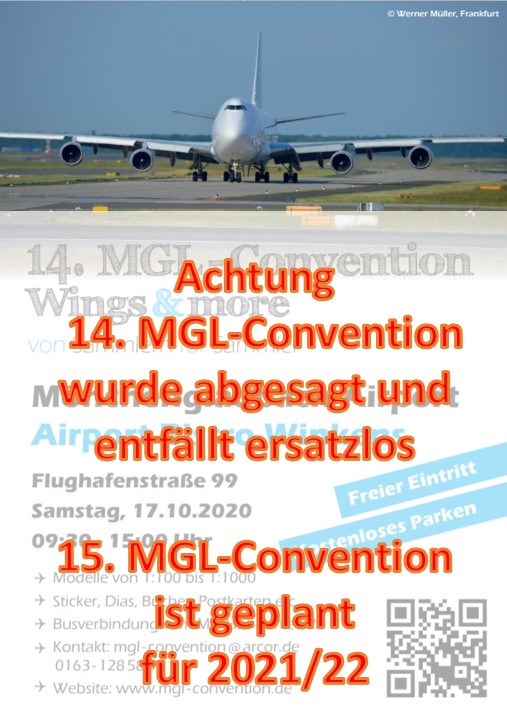 Leider hat das MGL Airport Bistro Winkens seine Pforten für immer geschlossen. Die Flughafengesellschaft MGL plant allerdings an gleicher Stelle ab Sommer 2021 eine neue Gastronomie. Wir hoffen, dass dadurch auch zukünftig die MGL-Convention an gewohnter Stelle und in bewährter familiärer Umgebung stattfinden kann. Sobald es konkrete Neuigkeiten gibt, werden wir hier darüber berichten.

Unfortunately, the MGL Airport Bistro Winkens has closed its doors forever. However, the airport company MGL is planning a new gastronomy at the same location from summer 2021. We hope that this will allow the MGL Convention to continue to take place at the usual location and in familiar surroundings. As soon as there is concrete news, we will report about it here.